Security Upgrade - We will be asking everyone to reset their password on the 13th September 2023. To read further information please
click here
Questions to ask 'Post Surgery' of yourself - to your Specialists - Tick Sheets - Self assessment

arpie
Member
Posts: 7,003
✭
I know that after my own surgery, I didn't always quite know what questions to ask of my surgeon and 'the team' that we all see regularly for the first 5 years following our treatment - so I set about looking for 'tick sheets' that would help me, as these appointments approached!
I came across some really interesting files.   They are all 'multi paged' so I've put a 'sample page' from each document to give you an idea of what is in it.
The first booklet is available at most Cancer Clinics and was put out by the Cancer Council - 'Living Well After Cancer'.   It is a good one to give to friends & relatives to read as well - to give them an idea of the longterm affects of cancer even after successful treatment - as they often think that once you've had your surgery, chemo, rads & tabs - that you are now 'well'.  We all know that that is NOT necessarily the case! 
   It really is a lifetime sentence.
This booklet covers a lot of areas that concern us all - and may be able to help answer questions in many situations that we face.
(sample page)
The 2nd one is:  "Questions to ask 'post cancer' " - a 'tick sheet' - these questions could be spread across the whole team - your surgeon, Onc and Rad Onc as well as GP.  Tick the ones that are relevant to you in the lead up to your individual appointments.
(sample page)
The next is "Self Care Specific Symptoms" - this sheet could also be for any of your team - with the 2nd section relating more to mental health issues that may impact you.
(sample sheet)
And finally - a Survivorship Care Plan - virtually a ''Self Assessment Yearly Checkup'' sheet .... which has more specific symptoms that you may be concerned about and also has pages for noting yearly checkups required re Dexa, Mammograms, Colonoscopy, MRI etc - almost a 'diary' to keep re future appointments.
(sample Pages)
Write down the dates you've had them, and when the next one is.  Add any other exams that are not already there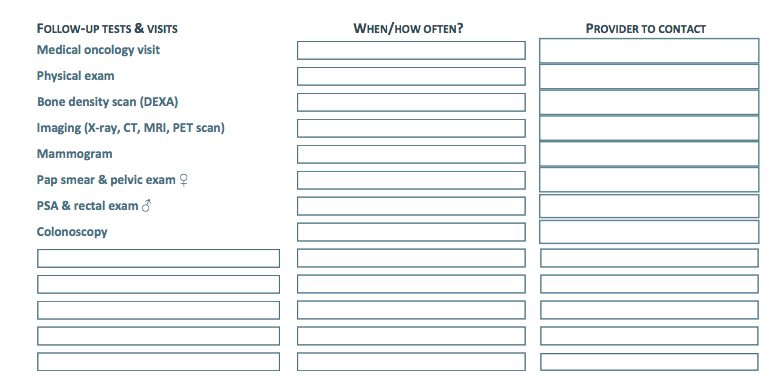 You can use any or all of these documents to track how you feel you are progressing - date them & further down the track, you can compare them to see how you are travelling.
Take care & I hope these sheets help in tracking your health - both mental and physical.  xxx
Comments