Friday update 26 March 2021

Hello and welcome to Fridays update,
A warm
welcome to all of our new online network members who have joined us in the last
month.  The Community Info tab located in the top blue navigation bar, contains our
Community Guidelines and step by step information for Navigating the Online Community.  These two documents will help
you get started online.  


Community highlights
Every week we have lots of great discussions within the online network,
here are some that you may have missed.
1.  Dealing with unhelpful comments by @Brownowl
2. Metastatic breast cancer by @Lizmoore
3. Our Gardens great plants @FLClover

Carers Corner
New private carers group has
been commenced in the Groups section of the online community.
Are you currently caring for
a partner, parent, child or family member? This private group is a safe and
welcoming space for you to connect with others carers who understand what you are going through.  Share your experience and knowledge with others while gaining support and practical information.  Discuss the very real and personal issues that affect you
as carers.  Find out about what support services are available to you as carers.  
To join the group click here
National Advance Care Planning Week 22 - 26 March 2021
National Advance Care Planning week is a
great time to start a conversation with a loved one about what is important to
you.  Learn more about how your future
health care wishes can be known and respected.  Sign up to receive a free information pack via email or find the relevant forms for your state or territory.  
Click here for
more information
Don't forget to check out our Podcast library.  There are 30 podcasts available covering topics such as just diagnosed, what next, communicating with your health care professionals, telling your children you have cancer, fear of recurrence, nutrition and breast cancer, breast cancer, genes and family and many more podcasts to choose from. 
Click
here to select a podcast


Play for Purpose is back again, and we would love your support.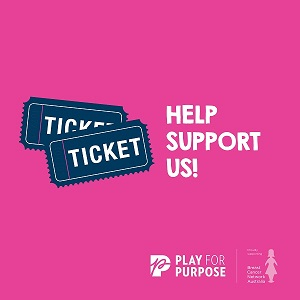 Every ticket purchased gives you the chance to win a first
prize package worth $250K. Imagine driving off into the sunset in your
brand-new Land Rover Defender just for spending $10. Well, if you win you won't
need to image it anymore as it will become reality!

Plus, you'll have the added satisfaction of knowing that $5
from your ticket goes straight to helping all Australians affected by breast
cancer.
If you want your chance to win, click
the link and purchase your ticket now
This week's reflective
quote
 "As we let our own light shine, we
unconsciously give other people permission to do the same."
- Nelson Mandela
Enjoy your weekend everyone,
The mod team.
Giovanna, Carissa, Michelle,
and Pat
Tagged: