Friday Update 17th December 2021 (Christmas Closure Details)

Mez_BCNA
Victoria
Administrator, Staff, Member, Moderator
Posts: 450
✭


Friday update 17th December 2021

Welcome to the final Friday Update of 2021!
I would like to extend gratitude and thanks to all members
of the online network.  In my short time so
far with BCNA, I have observed the forum as such a welcoming space for people
affected by breast cancer to be supported and heard as they navigate their own journey.                                                                                                                                      
BCNA Helpline
over Christmas and New Year
From 5pm AEDT on Thursday 23rd of December 2021
BCNA's Helpline will be closed and will reopen at 9am AEDT on Tuesday 4th
January 2022. The online network will be moderated as per weekend moderation
hours i.e. a couple of hours per day (morning and evening)..
Christmas
can be a particularly tough time for many people, and we encourage you to
connect with other members here to support each other. Please continue to be kind
and practice extra understanding/patience with other members during this time.
Keep
connections with your existing support networks such as family or friends, your
general practitioner or member of your medical team. Additionally, the following
services are available:
Cancer
Council Helpline Call
13 11 20
Open 9 am till 12 pm between Christmas & New Year period, closed on public
holidays
Beyond Blue Call 1300 22 4636
  24 hours 7 days a week (All calls and chats are one-on-one with a
trained mental health professional, and completely confidential)
Life line Australia Call 13 11 14 24 hours 7 days a
week (emotional distress,  crisis support and suicide prevention services)


Community highlights
Christmas
Funnies
In the spirit
of Christmas Funnies… 

You can check
out more of these Christmas posts in the discussion link below: https://onlinenetwork.bcna.org.au/discussion/comment/205348#Comment_205348

Popular forum discussions
Members new and old may have missed some of the forum discussions that have received the most comments:
3. Hormone inhibitors. To
use or not.
credit @FLClover



Community News
Breast cancer and the third
COVID-19 vaccine (BCNA Health Practitioners Network News 9 Dec 2021)
BCNA encourages all heath professionals to discuss the
benefits of a third COVID-19 vaccine with their patients on active treatment
for breast cancer. Advice published by ATAGI recommends a third primary dose administered 2-6 months
after the second vaccine to anyone undergoing chemotherapy or radiotherapy to
achieve the best possible immune response for this immunocompromised group.
Others with breast cancer who are receiving different types
of treatments such as immunotherapy and hormone therapy can get a booster
vaccine 6 months after their second dose. The booster vaccine is encouraged for
everyone and is important for carers and family of those with cancer as well.
Both state clinics and GPs are now administering third primary as well as
booster vaccine doses.
CARMAN'S FUN RUN
2022 – The perfect gift this Christmas!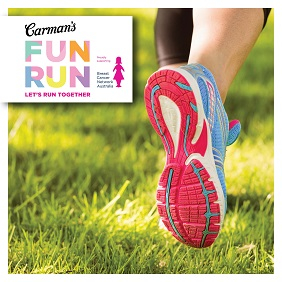 Now is the perfect time to
register yourself and a friend for the Carman's Fun Run in 2022.  Entry to
this event will not only make a fantastic Christmas gift for loved ones, it
will also help Breast Cancer Network Australia (BCNA) support thousands of
Australians diagnosed each year Register
Here!
Carman's
Fun Run will be held on Sunday 20th February 2022 at the picturesque
Elsternwick Park in Melbourne, Victoria.  More than 5,000 people will fill
the Bayside streets excited to be reconnecting with loved ones, whilst
supporting BCNA.  If you can't make it there on the day there's a run
anywhere, anytime option too.
Enjoy the
event experience at Carman's Fun Run, with live acoustic music, a family zone
including mini golf, a jumping castle and face painting, plus a chill zone
where you can relax with a post-race massage.
Friends of BCNA –
AFLW Membership Offer
For a
strictly limited time - until 9am, Wednesday December 22 as a 'Friend of BCNA'
you can access an exclusive Melbourne AFLW membership offer for only $60

and receive free gifts, including a ticket to the AFL Pink Lady Match in 2022!
Join the Dees AFLW as they PLAY4BCNA! Click the link for more https://buff.ly/3dMK9RS
PeterMac – The CanEAT
Pathway
A guide to optimal cancer nutrition for people with cancer, carers
and health professionals. This pathway has been co-designed to help people with
cancer, carers and health professionals achieve and deliver optimal nutrition
care. It will provide and link you with reliable information, resources and
tools and provide some practical tips that will help you along the way. www.petermac.org/CanEATpathway
Otis Foundation
Perhaps a Christmas gift for yourself or
someone else affect by breast cancer.  Otis
Foundation is a national charity gifting retreat accommodation to people
experiencing breast cancer and their loved ones. They will take enquiries from
anyone who has experienced breast cancer and feel they would benefit from a
stay. http://www.otisfoundation.org.au/
Podcast
Upfront About Breast Cancer Podcast Hormone Blocking Therapy – Balancing Quality of Life
and Risk of Recurrence
Let's be upfront about the side effects,
benefits and the impact of hormone-blocking therapies for the treatment of
hormone receptor-positive breast cancer.

Hear from the experiences of Debbie Packham and Ro
Woods – who have both been diagnosed with breast cancer and undergone
hormone-blocking therapy for various periods of time, as well as Lisa Sheeran
who has worked with breast cancer patients for over 21 years and been a breast
care nurse for 9 years.

Listen now via https://bit.ly/3yxw5Fl
Webcast
'The Role
of Radiotherapy in the Treatment of DCIS and Early Breast Cancer' RECAP
The on-demand recording from last weeks
webcast is now live - https://kapara.rdbk.com.au/landers/f19ef8.html
There were  1,654
registrations for this webcast:
Our one-hour event saw presentations and conversations
from:
·       
Kirsten
Pilatti, BCNA CEO
·       
Associate Professor Gillian Lamour, Radiation
Oncologist
·       
Sophie Andrews, Oncology Nurse
·       
Susan Manks, BCNA Consumer
A few frequently asked/mentioned topics from the night
were:
·       
Long
term side effects from radiation
·       
Developing
on-going skin changes
·       
Lymphoedema
 
·       
Effects
on heart and lungs  
·       
Radiation
and fatigue 
Books / Movies/ TV Series/ Documentaries
This week's
Christmas movie recommendation (Thankyou Carissa):
Miracle on 34th Street - "After meeting a special department
store Santa who's convinced he's the real thing, six-year old Susan Walker is
given the most precious gift of all, something to believe in!"
Finally, from everyone at BCNA and the moderating team we hope you
have a safe and happy festive season! Look forward to more sharing more Friday Updates in the New Year.
If you need to
speak with someone regarding any concerns, please call 1800 500 258
alternatively, you can email [email protected]
The mod team – @Mez_BCNA, @Carissa_BCNA,
@Jenny_BCNA, @Anna_BCNA, @Pat_BCNA @MichelleP_BCNA
 "I will honour Christmas in my heart, and try
to keep it all the year" – Charles Dickins (A Christmas
Carol)
Tagged: