Home
›
Community news and events
Friday update 5 November 2021

Mez_BCNA
Victoria
Administrator, Staff, Member, Moderator
Posts: 288
✭


Friday update 5 November 2021

Hello members,
Well, can you believe we are in November already? Spring weather has been in full swing in Victoria with such variety of days; how is your part of the world?
Thankyou again to all members who shared their stories, resources and support during October breast cancer awareness month. Also, a reminder to our newer members as to some of the resources and services BCNA provides:
·        My Journey  an online resource (and downloadable app) that provides high quality, evidence-based information and insights from others diagnosed with breast cancer as well as a symptom tracker.
·        My Care Kit  is for women who have recently had breast surgery. It contains a specially designed Berlei bra and soft form/s, provided through a partnership between BCNA and Berlei.
·        BCNA's Helpline is a free and confidential telephone service for those affected by breast cancer and their friends and family. Available -Monday - Friday 9am-5pm AEST 1800 500 258
Community highlights
October Online Network activity
* 51 New users * 101 Contributors * 100 Discussions * 798 Comments
The Online Network 'Page views' peaked to nearly 3,000 on the 14th of Oct, which coincides with the Thriving Together, Living Longer, Living Stronger web conference (If you haven't watched it yet CLICK HERE )
Popular forum discussions
Members new and old may have missed some of the forum discussions that have received the most comments:
2. Night Howlers - Jump on to chat if you are awake
3. Letting go of being superwoman!
Creative Corner
Have you checked out the latest creations in this member discussion? Hope you don't mind me sharing your wonderful work @StrongCoffee
- head to the discussion link https://onlinenetwork.bcna.org.au/discussion/14979/creative-corner#latest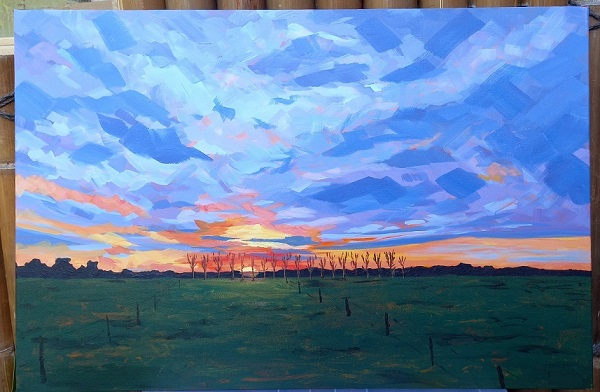 Community News
Summer is a great time to PLAY4BCNA!
Summer sports season is nearly here and whether you like golf, lawn bowls, softball or sailing, we invite you and your club can get involved and host a PLAY4BCNA Pink Sports Day.
In spite of some interruptions to community sport due to COVID-19, BCNA is thrilled to announce that 2021 summer registrations to host a Pink Sports Day are now open. CLICK HERE to Find out how you can get involved.
BCNA NEWS 26 Oct 2021 -  Subsidy for Verzenio (abemaciclib) expanded on the Pharmaceutical Benefits Scheme (PBS)
Breast Cancer Network Australia (BCNA) welcomes the expansion of the Pharmaceutical Benefits Scheme (PBS) listing of Verzenio (abemaciclib) to include its use in combination with Faslodex (fulvestrant). CLICK HERE to read full details
Facing breast cancer with a disability
Coping with breast cancer can be difficult. If you are also living with a disability, you may face additional challenges. Remember BCNA has resources to assist people with a disability; CLICK HERE  to explore.  
BRECONDA web tool for breast reconstruction (reminder!)
Have you heard of BRECONDA? While it has been existence for some time, there may be those of you who are not aware of this great decision aid. Funded by Cancer Australia and National Breast Cancer Foundation, BRECONDA is available for women deciding whether a breast construction is right for them after mastectomy. CLICK HERE to explore this free tool 
Upfront About Breast Cancer Podcast – Accessing Support in regional and rural locations
Let's be upfront about the challenges you may face in accessing specialised breast cancer treatment and care when living in rural, remote and regional areas in Australia.
In the episode, we're joined by Sandy Vlatko and Asha Scott. Sandy is a McGrath Breast Care Nurse who is based at Kalgoorlie Health Campus, located nearly 600 km northeast of Perth. Asha was diagnosed with breast cancer in 2018 and had to travel to Perth for a large part of her treatment.
We'll hear about how Sandy helped support and navigate Asha's complex medical situation in a regional setting and how she helped organise her treatments away from home, manage access to breast cancer services and other practical support available including allied health.
Listen via this link or wherever you get your podcasts: https://buff.ly/3jJJ8x6
BCNA Member Support Team & Online Network Moderators - Introductions
This week I am pleased to introduce you to Anna Wilson from our Member Support Team:
This week I am pleased to introduce you to Meredith from our Member Support Team:
Meredith is a trained nurse and came to BCNA having worked for 8 years at Odyssey House (Drug & Alcohol rehab).  She has worked in the health sector most of her career, mainly in hospital settings both in Australia and overseas. Meredith has worked the longest on the BCNA Helpline, with 14 years under her belt! She derives enormous satisfaction working on the Helpline, assisting, and guiding all people who contact BCNA for support. Her additional role at BCNA involves onboarding, engaging, and liaising with Health Professionals.
Meredith has also been diagnosed with breast cancer, giving her personal insight into the challenges one might face in their cancer journey. She is married and has a daughter. One of her of favourite pastimes is travelling and walking/trekking.
Books / Movies/ TV Series/ Documentaries
This is one that I listened to on Audible last year and has to be the best book for me in 2020. The reason why I share it today is that author Eddie Jaku has recently passed away at the age of 101. He was a brilliant human and I hope you get a chance to read his story 'The Happiest Man on Earth'
Eddie also did a TEDTalk in Sydney 2019: https://www.ted.com/talks/eddie_jaku_a_holocaust_survivor_s_blueprint_for_happiness?language=en
Have a wonderful weekend and I hope you enjoy the update.  In the meantime, if you have any concerns while online, please contact one of the moderators -
@Jenny_BCNA @Carissa_BCNA @Anna_BCNA @Pat_BCNA @MichelleP_BCNA @Mez_BCNA
If you need to speak with someone regarding your concern, please call 1800 500 258 alternatively, you can email [email protected]
Take care,
The mod team – Mez, Carissa, Jenny, Anna, Pat & Michelle
"It is never too late to be kind, polite, and a loving human being." - Eddie Jaku