Home
›
Community news and events
Friday update 22 October 2021

Mez_BCNA
Victoria
Administrator, Staff, Member, Moderator
Posts: 348
✭


Friday update 22 October 2021

Hello members,
It is a nice welcome today for Victorians as the lockdown restrictions lift today - Enjoy your greater freedoms!
BCNA continue their October breast cancer awareness campaign, highlighting issues that impact those diagnosed and advocate to drive change. Thankyou to all of our members who have shared their stories, resources and support.
Community highlights
Reminder Private Groups
Given that in October we have had 'Metastatic Breast Cancer Awareness Day' and 'Men's Breast Cancer Awareness Day', I wanted to remind members of the Online Network's private groups if you are seeking greater peer-to-peer support:
Living with metastatic breast cancer
Popular forum discussions
Members new and old may have missed some of the forum discussions that have received the most comments:
1. Friday Funnies These funny posts are welcome any day really – bringing something light hearted to the forum
 credit @ChezaH
3. Night Howlers - Jump on to chat if you are awake
4. Has anyone taken 'Before' and 'After' pics?
Community News
BCNA NEWS 13 Oct 2021 -  When an Employee Needs Leave for Cancer Treatment
'Don't come back' were the words Liz Tapping heard when she asked if she could take leave from her job to receive treatment for breast cancer. Her employer of 5 years sacked her on the spot. A recent ruling in the Federal Circuit Court found this action contravened the Fair Work Act.
CLICK HERE to read full details of Liz's story and also access BCNA resources to educate and support employees.
Cancer Australia  - The Impact of COVID-19 on cancer-related medical services and procedures in Australia in 2020
Cancer Australia today released a new report, The impact of COVID-19 on cancer-related medical services and procedures in Australia in 2020: Examination of MBS claims data for 2020, nationally and by jurisdiction, which shows an overall sustained reduction in cancer services in 2020. BCNA has also been working with Cancer Australia, providing consumer insight and feedback into the development of communications about the COVID-19 vaccine roll out and the impact on those with a diagnosis of breast cancer. You can find frequently asked questions in BCNA's My Journey  and on the Cancer Australia website. If you have any information that you'd like to share about how COVID-19 has been impacting your patients, please email the Policy Team on [email protected].  
"Don't Delay and just hope it'll go away." – Male Breast Cancer Awareness
Perth Channel 7 news featured Pieter and highlighted Male Breast Cancer Awareness Day in a fantastic segment.
Pieter's full story is available to watch on our IGTV on Instagram.
Head over to https://www.instagram.com/bcnapinklady/ to view his story and more.
"There is also a lot of misunderstanding about metastatic breast cancer and what this means in terms of your treatment and survival." – Metastatic Breast Cancer Awareness
Mother-of-three Andrea Smith knows she will lose her life to an incurable form of breast cancer. But she is determined to help other sufferers while she can. Read Andrea's story CLICK HERE
The Pink Bra Project Continues
This breast cancer awareness month show your support for those affected by breast cancer and the people around them. $10 from every Pink Bra sale from Berlei's Pink Bra collection will go to BCNA. Hear BCNA member's stories and ambassadors Stuart Diver, Aunty Pam, Raeleen Boyle and Sophie Conway https://www.berlei.com.au/pink-bra-project
Webcasts and conferences you may have missed
Breast Reconstruction Options and Expectations The virtual conference recording is now available to view on demand. Frequently asked/mentioned topics of the three-hour event were:
·        Access to resources
·        Should you have radiation before or after an implant
·        The impact of COVID-19 on wait times
·        Breast implant illness
·        Breast cancer recurrence after a reconstruction
·        Discussions around the option of not having a reconstruction
Metastatic Breast Cancer -Thriving together- Living Longer, Living Stronger The virtual conference recording is now available to view on demand. Frequently asked/mentioned topics of the three-hour event were:
·        How to manage resistance treatment with hormone blocking therapies
·        Immunotherapies and triple negative breast cancer
·        How to reduce the risk of fractures from bone metastasises
·        New drugs that enhance the action of chemotherapy in the cell
·        Uncertainty and fear of what might happen in the future
·        Support groups are a really important way to connect with others and reduce feelings isolation 
Upfront About Breast Cancer Podcast
Have you checked out our new 10-part podcast series, Upfront About Breast Cancer - What You Don't Know Until You Do, with Dr Charlotte Tottman?
Each episode explores Charlotte's lived experience, provides explanations of psychological triggers and responses and practical strategies that may help you or someone you know on their breast cancer journey. All episodes are available to stream now across all podcast platforms.
To listen visit https://bit.ly/3oD0S0C
BCNA Member Support Team & Online Network Moderators - Introductions
This week I am pleased to introduce you to Anna Wilson from our Member Support Team:
Anna joined BCNA In 2012, after a friend told her there was a position available on the helpline. Originally a primary teacher and with three young kids, she decided to take a leap and move into this space. While Anna knew little about BCNA's role, from the moment she started her role she loved it!  Anna felt like she could really make a difference being part of the organisation and found many ways to contribute both on the helpline and then in the fundraising and the sponsorship team.
Anna loves to hear the stories of the people who call the helpline and see how BCNA can really make a difference. She loves her colleagues at BCNA and enjoys collaborating with them each day "They are all so professional, knowledgeable and they care deeply for all those women, men and their families who are experiencing breast cancer".
Outside of work, Anna loves gardening and especially loves spring. Her two helpers Maggie and Billy are never far away!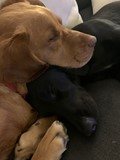 Books / Movies/ TV Series/ Documentaries
Have you seen the My Journey article about 'The Library'? 
https://myjourney.org.au/article/3497
The Library provides names of some books you might find helpful or interesting to read.
Books in the 'about breast cancer and DCIS' and 'live well' sections have been reviewed by BCNA staff and are recommended as reliable information. Personal stories have not always been reviewed by BCNA, but may have been recommended to us by others diagnosed with breast cancer or sent to us by the author (often a BCNA member).
If there is a book you would like to suggest for this list, please email us at [email protected] or post here in the discussion and I will pass on.
Hope you enjoy this update and I always welcome feedback. In the meantime, if you have any concerns while online, please contact one of the moderators -
@Jenny_BCNA @Carissa_BCNA @Anna_BCNA @Pat_BCNA @MichelleP_BCNA @Mez_BCNA
If you need to speak with someone regarding your concern, please call 1800 500 258 alternatively, you can email [email protected] (We will be back on deck Monday).
Take care,
The mod team – Mez, Carissa, Jenny, Anna, Pat & Michelle
"Awareness is all about restoring your freedom to choose what you want instead of what your past imposes on you" - Deepak Chopra
Tagged: