Friday Update - 8th July 2022

Mez_BCNA
Administrator, Staff, Member, Moderator
Posts: 761
✭


Friday Update 8th July 2022

Hi everyone,
Apologies for the belated Friday update. What a busy and wonderful
month of activity for BCNA in June. Hopefully I can catch you up in today's
update. In the next update I will be able to share registration details of the
Wagga Wagga Information Forum, however you can bookmark it in your calendar to
be held on the 17th of August 2022.
Take care and enjoy the update.
Community highlights
June Online Network activity 
The month of June saw the Online Network receive a
total number of 11,380 visitors to the community: 85 discussions
and 444 comments. 
First Peoples Private Group
This is NAIDOC week, therefore it is a timely reminder about the
online network private group First Peoples
. If you identify as an Aboriginal or Torres Strait Islander and have been
affected by breast cancer, you may like to share your experience or reach out
to others for support who are going through a similar journey.
Popular
forum discussions
Members new and old may have missed some of the forum discussions that
have been most active the past fortnight:
1. How long on hormone blocker medication
Posts by
'Category' Name' June 24 – 8 Jul 2022




Community News
BCNA My Journey article updates
Recently, we launched an updated
financial factsheet that explains the medical costs of breast cancer and
provides advice on understanding financial consent, your income options, and
where to find help. You can read this now via My Journey - Managing the costs of
breast cancer . You can read more about our Policy & Advocacy Strategy:
Towards 2025 via the following link: https://www.bcna.org.au/about-us/advocacy/
Approximately 5-10% of breast
cancers are thought to be hereditary. You can read more information in My
Journey in the new article Genetics
and risk of breast cancer
Did you miss the Launceston TAS forum?
Thank you to everyone who
attended our Information Forum in Launceston on the 22nd of June. We
were lucky enough to be joined by local groups in Tasmania such as Canteen
Australia, Women's Health Tasmania, Encore and Cancer Council Tasmania. We also
had wonderful presenters Dr Ben Forster, Dr Carrie Lethborg, Collette
Eberhardt, Sandra Carter, Jenny Gilchrist, Orla Timmins, Katie-Jane Brickwood
and Emma Warnecke who shared relevant information and helpful tips and
resources. You will be able to watch the on-demand recording in the
coming weeks so stay tuned. You may want to watch the Ballarat forum recording
in the meantime via the link Ballarat
Information Forum
Pink Lady Match – The Power of Pink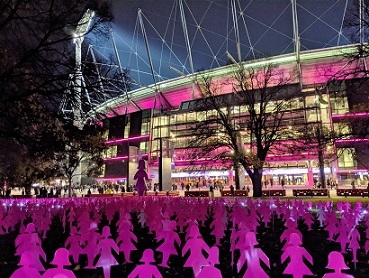 As you can see
from some of the great pictures captured, it was so wonderful to get back to The
Pink Lady Match which hasn't happened since 2019. For me the tribute field was
definitely a highlight, it was a clear Melbourne night and it was just beautiful
to see everyone out there supporting people affected by breast cancer.
BCNA raised
almost $350,000 across our #PLAY4BCNA
beanie and merchandise sales and the Virtual Pink Lady donations for the match
which will provide vital support for the more than 20,000 Australians diagnosed
with breast cancer this year. Thanks to this amazing support BCNA will continue
to work to ensure they receive the very best treatment, care and support.
Thankyou to all
of you who said hello, offered messages of support, donated or purchased BCNA
merchandise. Looking forward to next year's Field of Women (Register your interest
here https://www.bcna.org.au/news-events/2023-field-of-women/) 

BCNA Network News - Updates on new breast cancer treatments
and technologies
BCNA
made a submission to Pharmaceutical Benefits Advisory Committee (PBAC) in support of trastuzumab deruxtecan (Enhertu™) for
the treatment of metastatic HER2+ breast cancer patients who have received a
prior HER2 treatment in the metastatic setting. This will be considered in PBAC's
July 2022 meeting.
BCNA also made a submission to Medical Services Advisory Committee (MSAC) in support of the
multi-gene prognosis test, EndoPredict™ for those with ER+, HER2- breast
cancer. BCNA supports evidence that EndoPredict™ and other genetic tests can
assist multi-disciplinary teams to better predict the risk of breast cancer
recurrence and tailor treatment accordingly. EndoPredict™ will be
considered by MSAC in its July 2022 meeting for subsidy on the MBS.
BCNA Network News – Trials and Studies
Consumers receiving an oral hormonal
treatment for HR+/HER2- advanced breast cancer are invited by researchers
to complete the online screener via the consumer-facing materials found HERE.

BRCA-P: BRCA-P is a world-first trial that aims to
prevent breast cancer in women with a BRCA1 gene mutation
CAPTURE: The CAPTURE clinical trial aims to identify
women and men with hormone-receptor positive metastatic breast cancer, who may
benefit from a novel combination of drugs that may improve progression free
survival and offer a new treatment option.
DIAmOND: The DIAmOND clinical trial will investigate
if the addition of two immunotherapy drugs to Herceptin (Trastuzumab) will
improve treatments and outcomes for women and men who have HER2-positive
metastatic breast cancer.
EXPERT: EXPERT aims to improve personalised use of
radiation therapy in early breast cancer patients by using a genomic test to
identify women who can safely avoid this treatment after surgery and the
possible side effects.
FINER: The FINER clinical trial aims to find out if
cancer will remain under control for longer in patients with advanced
ER-positive and HER2-negative breast cancer. 
(Please discuss suitability of trials relevant to your needs with your treating team and you can read more about breast cancer trials HERE)
Study of artistic tattooing of breast cancer mastectomy scars
Our Policy & Advocacy team wanted to share a
study that may be of interest to our Online Network members:
Tina-Maree Newlan, current student of Charles
Sturt University and Psychology Honours candidate, is currently conducting a
qualitative exploratory study investigating the experiences of women who have
had breast cancer mastectomy surgery and tattooed (or are in the process of
tattooing) their mastectomy scars. Tina-Maree is looking for 8-10 women, of all
ages (18+), who have had the above and would like to participate in an
interview with Tina-Maree. For further information, or to indicate that you are
interested in participating, please email Tina-Maree on tinanewlan@**** on or prior to
15th July 2022


Webcasts - What did you miss?
Did you miss Ask
the Expert digital event with Dr Michelle White on managing side effects of
hormone blocking treatment? Dr Michelle White
and BCNA Consumer Representative Kym Berchtenbreiter discuss the side effects
of hormone blocking treatment and how to manage them. The video
is now available to be viewed on-demand https://bit.ly/3nGDe1w


Podcasts
Episode 44: Work after breast cancer: Tackling the difficult
conversations
Joining us for
this episode of Upfront are Greg Smith and Lisa Edgar. We hear about how best
to approach your employer to discuss your diagnosis and treatment and the
potential impact on your work, what support you should expect from your
workplace, the main challenges faced when working after a diagnosis and beyond,
and what you can do if your employer is not supportive of you.
We look forward to
launching the 'Men & Breast Cancer' podcast this month with two of our
consumer reps Harry and Pieter. Reports are that it is another excellent discussion
and will be very helpful for men diagnosed with breast cancer. 


Books / Movies/ TV Series/ Documentaries
Continuing with the relevance to NAIDOC Week, I wanted to
share the BCNA website page Information
for First Peoples that provides specific information for First Peoples
diagnosed with breast cancer.
Hope you found the update informative and if you
have feedback or any concerns while online, please contact one of the
moderators:
@Jenny_BCNA @Carissa_BCNA @Anna_BCNA
@Pat_BCNA @Mez_BCNA
If you need to
speak with someone regarding your concern, please call 1800 500 258
alternatively, you can email [email protected]
Take care,
The mod team – Mez, Carissa,
Jenny, Anna & Pat
"Those who lose dreaming are lost" – Aboriginal Proverb
Tagged:
Comments