What are your easiest, tastiest meals - quick to prepare when you can't think of anything!!

arpie
Member
Posts: 7,250
✭
Hi guys
I have a few 'standard' easy meals that I always have the ingredients handy, in case I seriously can't be bothered cooking a 'fancy' meal .......
feel free to add your own 'Favs'!  
Last night, we had our winter favourite 'comfort food' - Lamb Shanks!!   I cheat, and buy the Aldi FROZEN Lamb Shanks (2 for $12 already cooked - they usually cost that 'RAW'!!) - that way you can always have a couple in the freezer.  I often take them with me when I am camping too - SO easy to just cook in the microwave with some sweet potato 'on the trot'!  
Take them out of the box and they are even easier to store in the Freezer.  If you decide to cook them up later in the day - just pop them in the sink (or big container) with cold/lukewarm water & they'll thaw out pretty quickly.  Change the water if you want them to defrost quicker.  They come in 'individual Vac Pacs' - and because they are already Pre Cooked - when you open them, the 'cooked fat' is already 'in solid form' and you just pull it out - so they are healthier for you too!!  
There are 2 flavours - one with Mint in the gravy & the other one based on a red wine gravy.  Both are LOVELY!  This is how I prepare them for 2 people .......
In a BIG casserole pot, add 1 tin of diced tomato & 1 drained tin of Chickpeas.  Add 1 x Cubed Potato, 1 x cubed small Sweet Potato, 1 x chopped/cubed Carrot.  Mix them into the tomato/chickpeas sauce.  Remove any 'solid fat' from both of the Shanks and add them to the casserole pot along with all the gravy in each pack.  Mix the gravy well with the tomato mix.  Cover the pot & cook at 180 degrees Celsius oven for 2-3hrs ..... stir every hour.  The meat will just fall off the bone and I bet you enjoy them!
BONUS
:  After serving up with the gravy and veggies (and cabbage or your choice of greens...) whilst the remaining gravy & veg are still hot - use a Bamix (or similar) to pulverise it all ..... this will make a wonderful soup for the next day or so!  I usually water it down a bit as it can be quite thick.  Lovely with some toast for lunch.
One of my other favs is the 'Vac Pac'd' 'FLAT CHICKEN' .... once again, Aldi do a lovely one - with yoghurt & garlic with NO BONES - so you just cut up the chicken in slices when cooked.  Just do a BIG ROAST - I do it in 2 dishes - the chicken in one (with alfoil under the chicken on a cake rack to reduce the cleaning!) and all the potato, sweet potato, pumpkin, carrot & onion in another tray, all into the oven at the same time as the chicken - and it takes a bit less than 1hr to cook at 170 degrees Celsius.  Turn the chicken & veg around after 1/2 hr.  Cook greens in the microwave 5 mins before serving time.  This gives us 2 full sized meals for 2 for 2 nights.   Once again - keep one of the chickens in the freezer - as they are 'flat' they store really easily & don't take long to defrost in the sink in cold/lukewarm water - great for when unexpected guests turn up, too.
When my Grandmother first went into secure living (with her own kitchen) I suggested that she cut up a whole chicken (for numerous meals) and put it into a casserole dish with  a packet of Chicken Noodle Soup & the required amount of liquid, as well as a chopped onion & sliced red capsicum ..... cook it for about an hour - and it was YUMMY - and gives lots of meals too - served with salad.  (Whole frozen chickens are VERY reasonably priced ......)
Here's the 'after pic' of my lamb shanks last night ....... just as well we don't have  a dog .... nothing much left!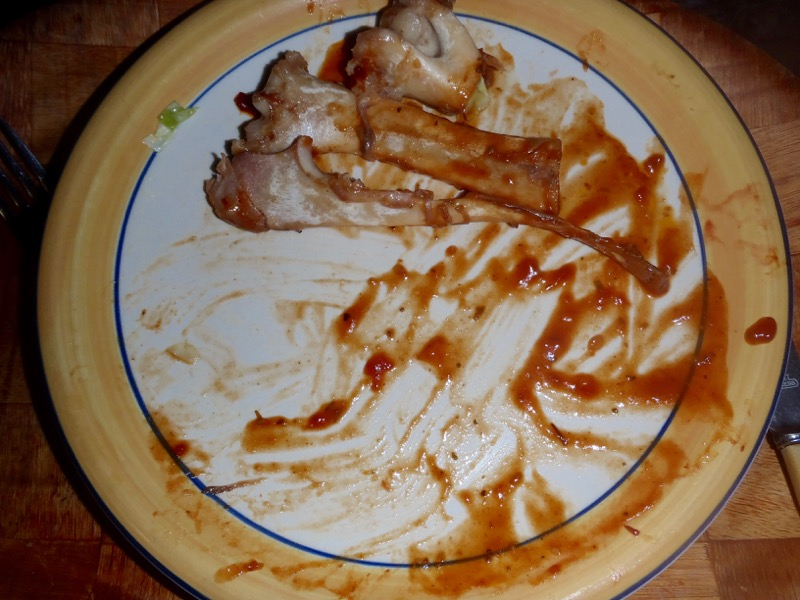 Tagged:
Comments