Home
›
Groups
›
BCNA Walking Challenge
Week 4: Walking Challenge update
Fiona_BCNA
Staff
Posts: 82
✭
Week four
4 days to go
BCNA's Walking Challenge is in its final days, don't forget to log your steps before the challenge is over. The challenge officially finishes, Sunday 1 October, however steps can be logged on the website until midnight Wednesday 4 October.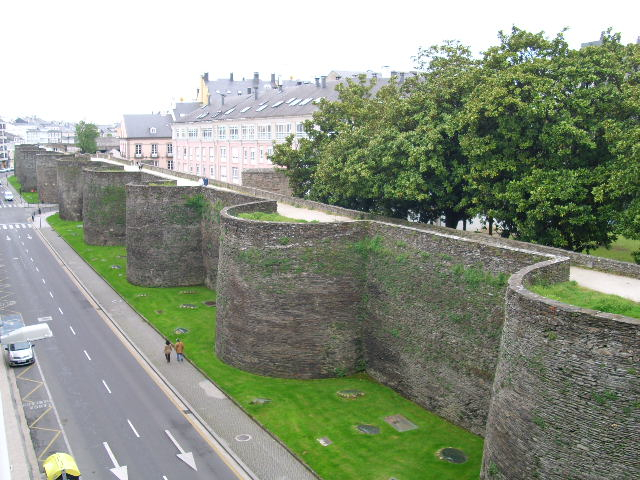 Melide, Spain (top left)
Although not a large town Melide is host to impressive architecture, grand monuments, churches and amazing food. Every Sunday there is a fruit and cheese market and for those with a sweet tooth Melide will prove to be a taste of heaven. With the smell of fresh baked goods welcoming you in the centre of town you will be very strong willed not to be tempted to taste the local freshly prepared pastries.

Lugo, Spain (top right)
Lugo is the only city in the world to be surrounded by completely intact Roman walls, which reach a height of 10 to 15 metres along a 2,117-metre circuit ringed with 71 towers. The walk along the top is continuous round the circuit, and features ten gates. These 3rd century walls are protected as a World Heritage Site.
Santiago de Compostela, Spain (bottom)
The city has its origin in the shrine of Saint James the Great, now the city's cathedral, as destination of El Camino. In 1985 the city's Old Town was designated a World Heritage Site. In Santiago, food is an active part of the culture of the city. There is a spectacular array of restaurants, bars and taverns. Here you will eat well - and plenty. Santiago is famous for seafood, fish and beef.
Challenge update: Final week

Collectively we have already covered
34,705km
, which is a similar distance to that of the entire coastline of mainland Australia. This is incredible. Congratulations to everyone who taking part in this challenge and taking steps towards improving your health and fitness goals. Although these are not the final results (winners will be announced on Monday 16 October once the final steps and evaluation points have been tallied) this week's top three teams are Pink Divas, The Pavement Pounders and Splash and Chat girls.
Staying motivated: Keep on walking
Just because the challenge is coming to an end, this doesn't mean you should stop moving. There are so many ways to stay motivated and continue to increase your activity levels.
Find an exercise program in your area - You can find exercise programs listed by state on the BCNA website or contact your local fitness or leisure centre to find out what they offer.
Join a walking group - Find a walking group in your area at Heart Foundation Walking or Short Walks Australia.
Create your own challenge – Create your own Get on Track challenge for your friends, family, support group or local community. It's the perfect way to encourage fun and friendly competition while encouraging healthy habits at the same time.

Join an official Get on Track challenge - Diabetes WA runs a number of official challenges each year. These challenges run for 6 weeks at a time and include some great prizes for the top three teams.
Seek out interesting places to walk - Plan walks at places you'd like to explore: the beach, the bush, a nearby mountain, or anyplace else you've thought about going but never get around to. Find a good spot to start here.

Walk for charity – Sign up to a community walking or running event (you don't have to run, lots of people walk the route). Community events and competitions are carried out throughout the year, and can be used to set targets in regards to personal fitness. You can even fundraise online to support BCNA find out more here.
Get friends and family involved - Get the whole family involved. Enjoy an afternoon walk/bike ride with your kids or grandkids.

Get off early - If you take the bus, train or tram, get off a stop or two early and walk the rest of the way. If you drive, park further away and walk.

Register for an Inspired Adventure - Inspired Adventures is a BCNA program that allows members, supporters and/or family and friends to go on an adventure of a lifetime and raise funds for BCNA while getting fit and healthy after treatment, travelling to bucket list destinations and making friendships that last a lifetime. Upcoming adventures include the East Coast Tassie trek, New Zealand South Island trek and El Camino trek. Find out more here
Your stories: Sharon Scoble – Team Snowbaby
I have been recording my steps from Canada while visiting my new grandson Atlas. I walked over suspension bridges and up many hills. On my return to Australia I was straight out to Lombadina on the Dampier Peninsula up from Broome for work (I work for Kimberley Land Council). Here are some photos from Lombadina and from Canada. – Sharon
Do you have any photos or stories form your walking adventures? We would love to feature them in next week's newsletter. Please send them to [email protected].
Prizes: Winners announced Monday 16 October
If you are needing a little more motivation to keep up the walking, remember we have some great prizes up for grabs. Prize winners will be announced on Monday 16 October.
Evaluation: We want your feedback
Running programs like the Walking Challenge are new for BCNA. We are excited about future possibilities, but recognise we may not always get it everything right. So please give us your honest and constructive feedback in this evaluation survey. Tell us what you liked, what you didn't like, what was helpful and what wasn't helpful. The evaluation survey will be available from Monday 2 October. Everyone who completes the survey will go into the draw to win a prize.
Support
The walking challenge officially finishes, Sunday 1 October, however steps can be logged on the website until midnight Wednesday 4 October. To earn an extra 1000 bonus steps, log in between Friday 6 October Wednesday 8 October and complete your post challenge health profile.
If you have any questions, please don't hesitate to contact us at [email protected] or on 1800 500 258.
Happy Walking!
Tagged: